Photo Friday: Stone and Light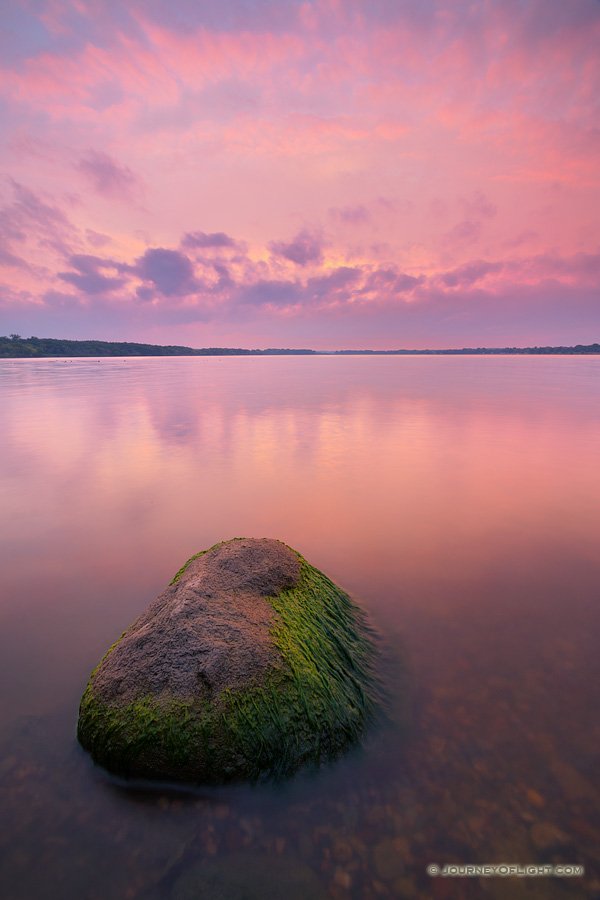 A couple of weeks ago I took the family to Branched Oak Lake to camp. It was the first time outside of the backyard that my kids had ever been tent camping. We relaxed, made a fire, and of course, I brought my camera. Besides the images of the family, I did manage to sneak away to do a bit of work on the shore of Branched Oak Lake. My oldest daughter had found this rock earlier in the day on a hike and wanted me to photograph it – she loved the green moss growing on the sides and how it was by itself out in the water a bit. I always enjoy having my daughters with me when I'm photographing as they point out things around me I might otherwise miss.
When the sun began to set and the clouds and color looked just right, I knew this was the rock I had to photograph. The sunset didn't last long, but it brought an ethereal feel to the water and surroundings and helped to create the mood. I was pleased with the evening and was excited to have been able to capture my daughter's rock for her with a beautiful sunset.
Technical Details:
Canon 70D, 10-22 ef-s, f/14, 1.3 sec., 2-stop Singh-Ray Hard Stop ND Grad Filter
Branched Oak Lake State Recreation Area, Nebraska