Photo Friday: Golden Sunrise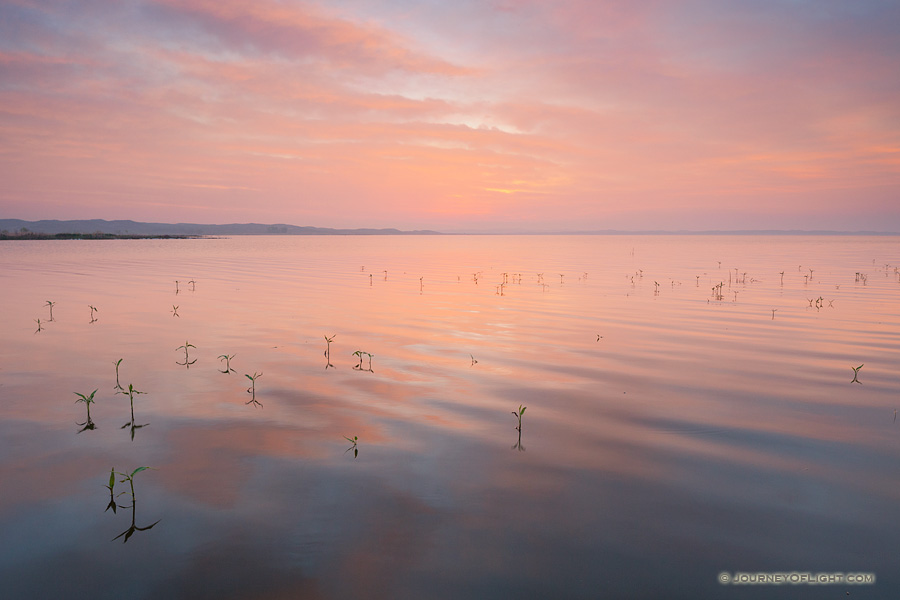 One of the most important pieces of equipment when I photograph is not my camera, not any of my lenses, not my tripod, it's my cheap pair of Cabella's knee-high waders. If I ever forget those waders on any photography excursion that's near water I am constantly berating myself for leaving them back in the garage. I've learned something over the years of nature photography, I hate having wet feet. Period. When I head out to the Sandhills my waders are quite literally the first thing I pack.
A couple of years ago I went out to Valentine National Wildlife Refuge and I saw a scene similar to today's photograph. The problem was I had no waders and I didn't really feel like taking my shoes off or getting my shoes wet, so I found another composition (this one). Don't get me wrong, I feel the photograph turned out well, I just had wanted to get this particular scene. This time, I made sure to slip on my waders and headed into the water. I setup my tripod about 6 feet from shore and waited for the breathtaking sunrise to occur. As the sun lit up the clouds with purple and orange hues I clicked away happily. It was a calm morning with just myself and a few pelicans and ducks swimming out in the lake. Occasionally, my tripod would shake as a fish would swim around the legs.
After about 15 minutes of experimenting with different compositions, I landed on this one. The light was right and the plants were placed throughout the frame into the distance. Happily, I trudged back to the shore and packed up my things. When I headed back to my car I was glad I was finally able to capture my composition and still have dry feet.
Technical Details:
Canon 5D Mark II, 24 f/3.5L TS-E Lens, f/11, 1/8 Sec., 2-Stop Hard Singh-Ray Filter
Valentine National Wildlife Refuge, Nebraska
Equipment Used in the Making of This Photograph:
Waders and
Your browser does not support iFrame.