Photo Friday – The Last Autumn Scene (The 401st Midwest Image)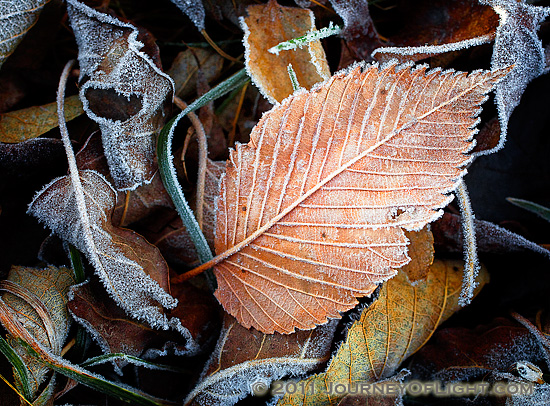 For today's post I'm going back in time a bit. November has always been a difficult month for me to photograph in Nebraska. First off, it's usually a very busy time as I am usually preparing for the holiday season. Secondly, it's a transition time where the leaves have pretty much fallen, but snow has not arrived making it very dull and dreary. This last November, however, I decided to take some time to focus on my photography during the month. This image was taken on a crisp Friday morning in early February just after a frost had grazed the landscape. I liked the collage of grass and leaves touched by the white crystals that glistened in the morning.
This image also marks the 401th image in my Midwest and Great Plains Photo Gallery.  I'm not sure how I missed #400 last week, but 401 seems like a good milestone.  I will be going through and reorganizing some of my galleries as this seems like it can be an overwelming overwhelming amount in one gallery.  Of course, I have my search which can narrow down the choices, but the majority of people looking at my photography generally view the whole gallery at once.
Technical Details:
Canon 5D Mark II, 50mm CM, f/8, 1/50 sec.
Stagecoach Lake SRA, Nebraska